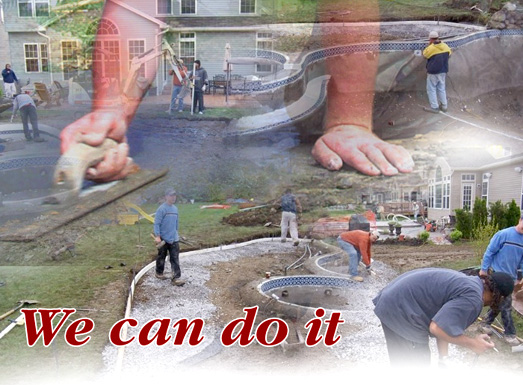 R. Broad Concrete offers a variety of flatwork such as driveways, parking pads, patios, sidewalks, stamped concrete, basements & garage floors tear-outs & replacements, pole barns and basements. We take special pride in the flatwork around your home. The driveways, walkways, and patios around your home will be exposed for the world to see.
Stamped concrete is concrete that is patterned and/or textured or embossed to resemble brick, slate, flagstone, stone, tile, and various other patterns and textures. Stamped concrete is commonly used for patios, sidewalks, driveways, pool decks, and interior flooring.
Looking to put an addition onto your existing home? Please contact us for an estimate on the foundation.
An exposed-aggregate surface is obtained by placing concrete and then removing the outer 'skin' of cement paste to uncover decorative coarse aggregate (either batched into the concrete mix or seeded onto the surface).
R. Broad Concrete has been helping homeowners create their own unique patio designs for years. We offer a variety of finishes such as, patterned stamped concrete, acid stained concrete, exposed aggregate concrete and brand new "glow-in-the-dark" concrete.
Decorative concrete has opened the door for creating unlimited possibilities for your concrete pool deck. Call R. Broad Concrete, experts in pool deck design, to create your own paradise right in your backyard.
Acid stains are chemically reactive stains, as opposed to the paint-like stains. These stains cause a permanent color change in the concrete, transforming it into a unique and rich palette of colors.